Instituto INTER is a private Vocational Training Centre approved by the Ministry of Education, Training and Employment of Generalitat Valenciana. Since 1977 it has been dedicated to the training of young people and adults, with its on-site, semi-attendance and on-line modalities.
Our motto is "Learning by Doing". In order to do this, we have facilities (5,050 m2) with classrooms and large workshops equipped with the needed resources and we have a qualified staff team of more than 100 workers. We also have a lot of partners (more than 800 companies). There are 2,300 students per year approximately, who entrust their training to Instituto INTER.
We offer Practical Courses, Professionalism Certificates and Occupational Training: Plumbing, Gas Installer, RITE (Regulation of Thermal Installations in Buildings), Electricity, Automotive, Air Conditioning, Healthcare, Industrial Networks and many more…
We also teach Intermediate VET: Education in Nursing Assistant Care, Electromechanics and Electrical and Automatic Installations.
And Higher VET: Children's Education, Dietetics, Dental Hygiene and Electrotechnical and Automated Systems.
The purpose of Instituto INTER is to help its students from training to their complete integration into the labour market.
Información para descargar:
| | | |
| --- | --- | --- |
| EDUCATIONAL PROGRAMME | INTERNAL REGULATION | QUALITY POLICY |
| | | |
APPROVALS
Instituto INTER is a private Vocational Training Centre, authorised to teach the following training modalities: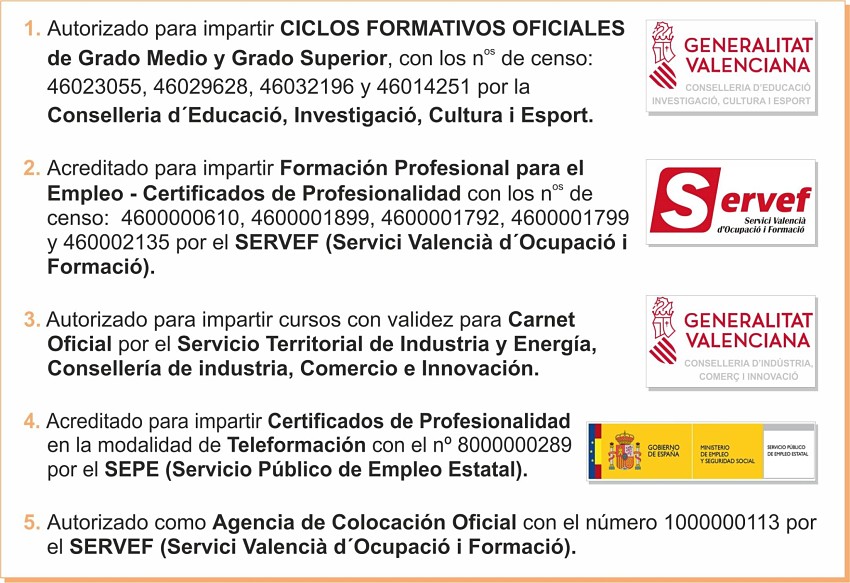 Click here to see the full list of the Professionalism Certificates approved by SEPE in our different centres of Valencia, Castellón and Barcelona.
Furthermore, Instituto INTER is a member of the Business Association of Training Centres of the County of Valencia. By clicking on the logo, you will access the FEVAP website, the Business Federation of Training Centres of the Valencian Community. It is the entity that lumps together the three provincial associations that give shape to the current or future centres, dedicated to non-formal education, VET and business training.